A Celebration of Franz Wright, Day 2
REMEMBERING FRANZ
by Elizabeth Oehlkers Wright
In the ninth month after Franz died, I was asked if I would like to contribute something to a memorial feature in his honor. I was faced with an immediate difficulty involving shared reality. To contribute, I went along with the premise. I slept on the couch for several weeks, facing the chair, the one still there for Franz, to coax out a few of the days I might uniquely offer, private sketches, testing my interest in getting back.
There are days that come to me. Some were months or years. Here are a few notes:
A day in December the first year we were married and living in Waltham, Franz called me to say he had gotten a job at the independent movie theatre down the street. He said it didn't matter where he was anymore or what he was doing, he could write the poems while sweeping up popcorn. New Year's Eve, a drunk woman wouldn't leave the lobby until someone gave her a light. There was a scene, threats. Franz followed her out. I think Franz introduced the idea to me of driving her 40 miles north to Gloucester in an ice storm at 1 a.m. before getting her to come up the stairs and meet me. I recall a congenially rough voice, apologies, laughing. We left. It was dark in Gloucester of hilly one-way historic streets and none of us knew where her friend lived. How many times passing the same houses, the gas station. And then we were there, her friend opening the door in his socks, a neat votive candle-lit apartment behind him.
As a work-study student at the Emerson College Library, I checked out a book for Franz, twice. I knew his name, that he was the translator of The Unknown Rilke, a book I had fallen in love with even after failing the oral presentation for which I bought it. My roommate had Franz for a composition class. She said he read books to them for the entire two-hour period. He put the library book on the counter. I don't remember the title of the book either time. His soft low voice, his downcast eyes; who could blame me if I imagined talking to him alone someday, maybe reading German poems together.
When Franz bought us tickets to hear Mahler's 2nd Symphony "The Resurrection" at Symphony Hall in Boston, he typed up the German along with his own synopsis in English then tore these into strips that he handed me at the beginning of each movement.
On the phone when I was still living in Boston, on the verge of moving in, Franz told me he wanted nothing but to watch baseball with me. I had to borrow a TV. We watched football too, and a lot of movies. Eight years, four apartments later, during the week, after writing alone at home all day, Franz picked me up from my job at the translation agency; we made dinner and sat in the living room to watch the news, then CSI and Law & Order episodes until we couldn't find any more. The next evening we walked to the video store and rented movies, made popcorn, did the dishes, went to bed, things like that. Another evening, a recovery meeting. On the weekends, Franz drove us along the winding 117 from Waltham through to Concord for lunch and a walk in the woods or to our apple orchard and then west on Route 20 until the sun went down. This takes place in eternal time. But there was an end to it.
Year unknown, one weekday evening Franz stretched out on the couch. At the end of the movie: What if you were one time to sit in this chair, I suggested, having been seeing a therapist, and I could stretch out on the couch. Why hadn't I said something sooner – of course! But nobody liked the chair. Two days later we saw a green old-style nubby chair in perfect condition on our neighbor's curb; Franz picked it up and brought it home on his shoulders. After that I don't remember any more baseball games. He wrote 48 hours on, 7 off. It's possible it had nothing to do with the green chair. The piles of paper grew in the living room, then the dining room, porch. Stray sheets floated to the kitchen, bathroom. Sleeping only every three days generated enough material for it to regularly bifurcate into two manuscripts. Sleeping only every three days, he slept where he stopped. He fell that way once, breaking his hip. I went to sleep and woke to the sound of the typewriter.
I don't know exactly when it was that I routinely and uninhibitedly articulated my candid reaction at hearing a new poem. Until then, I was circumspect; I watched the weather, noted routes of egress. Encouragement has always been more fruitful is what I told myself. The change had something to do with a strategy I believe Franz took up again, one he had used very early on, he said, trying to check out "the boyfriend situation"–whether there was one. Any question he asked me the moment I woke up, I answered without respect to his reaction. It worked even better if he woke me up at an unexpected time, such as 3am, only now it was to read me a poem. Sometimes my honest response would get the day off to a great start. I can only reason that after seeing how I had survived so many waking moments, I relaxed and shed a few pounds of hockey gear. Things got – fun. For whole days, weekends, vacations, midnights, early mornings, we'd sit in our respective corners of the living room and "work."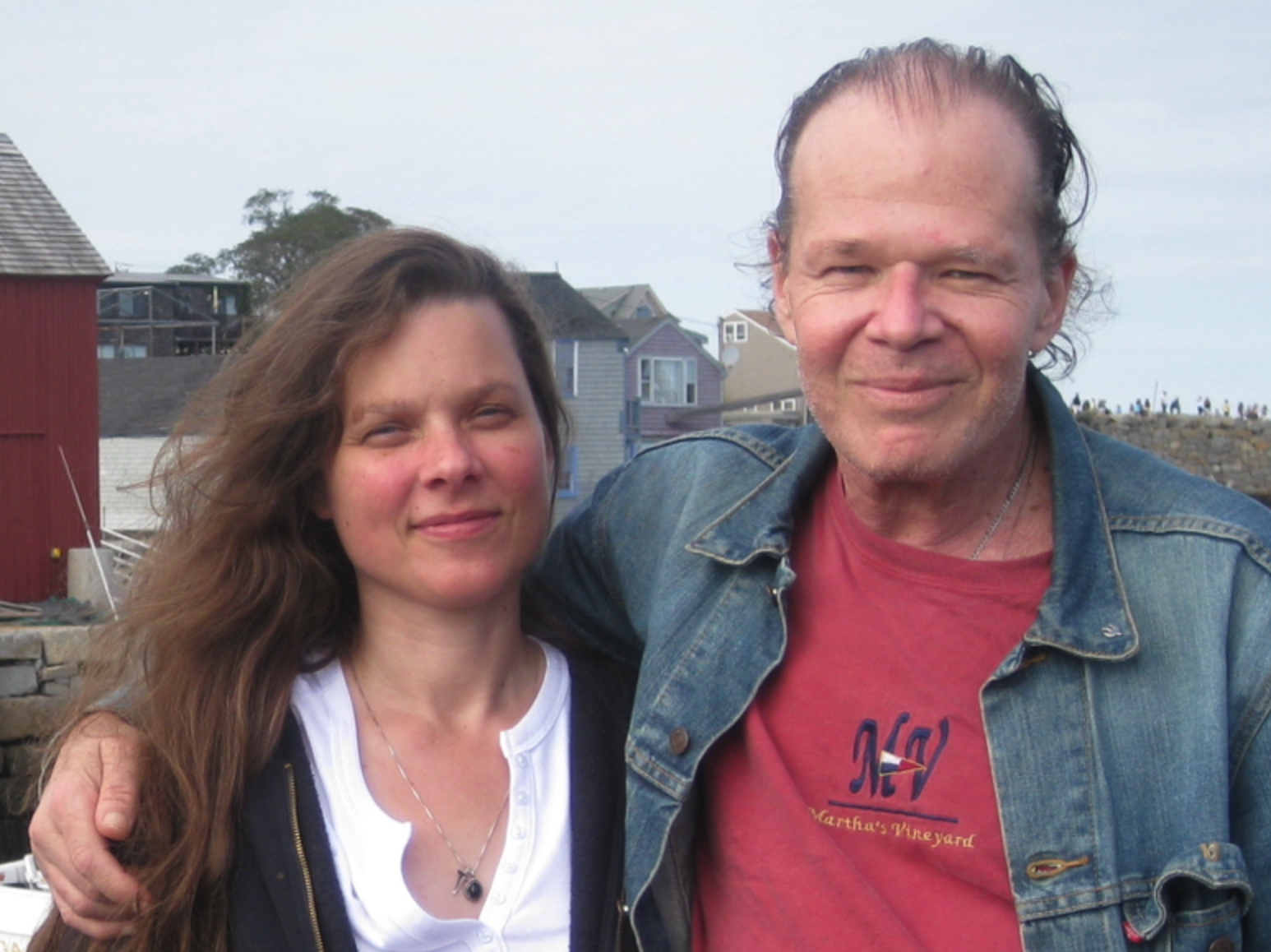 The day starts with Jimi Hendrix played too loud. Depending on which year it is, I'm annoyed or relieved. "Sit with me for once, damn it, here what do you think of this," handing me a new revision, and simultaneously reading to me from the beginning of Margaret Yourcenar's Memoirs of Hadrian, a book Franz is reading for the third or fourth time and wishes I would read, emperor at the end of his life diagnosed with a terminal illness and reflecting – the flesh that amazing instrument of muscles blood and skin, that red-tinged cloud whose lightening is the soul. Franz plays "Love Me Do" several times.
In 2012 Franz lost the ability to lift his left hand, then his right – the doctor said ulnar nerve damage; it would heal at the rate of one centimeter a month. Along with dictation software, a digital voice recorder, there's me. I open the netbook and pull out the meditation pillowcase I'm sewing from old corduroys, keeping mind alert. I read a dictated passage back to Franz who looks offended – "That's terrible, how could you just type that?" Madame Tolstoy wrote out War and Peace in pencil, twice. We cover the floor with revisions, which I tag and scan before releasing them back to the wild, the project of assembling the final manuscript, gathering all versions from crates, floor, computer, dining room table, desk, postponed for the morning. Any hospital room for more than a day became similarly richly papered. Repeatedly thwarted yet urged onward, I sew the loose pages together with needle and thread. It takes a month before I watch the disassembling by scissor and say nothing. Franz had already expressed his fear that with the book finished, death would come. He unraveled his shroud by night.
Franz thinks of something he wants in the other room & I don't see him for almost an hour. Another day we might break off after tripping a land-mine, common enough, especially if I'm tired – the familiar abrupt cessation of collaboration. How we kept starting over is hard to explain. The good hours return by themselves and we're two kids camping in the backyard never getting around to sleep, made alike by a common indifference to everything which is not this moment in the world (Camus).
A recurring memory I've had this past week: driving home on the Mass Pike January 2013 with the windows open, Franz apparently sleeping beside me and live Led Zeppelin at full volume which for once I didn't try to turn down. We were driving away from the hospital where Franz had refused emergency interventional surgery for a sizable metastatic brain tumor. We were driving away from the hospital with a short lifetime's supply of steroids because a) though the surgeon's summary of risks were restricted to vision and spatial processing, Franz was unconvinced and so b) there was a poem he wanted to finish. Not that the surgeon didn't try, in a showdown during morning rounds, defending the optimistic clinical situation and emphasizing and the possible extension of life up to 12 months. I don't remember everything. The surgeon was at a loss, unprepared for this response. They shook hands. We left. At home, we camped in the living room where Franz took several poems from a box and we went to work. Later we watched a strangely pastoral Led Zeppelin movie – part of his campaign to alter my lifelong opinion, did we make popcorn? At some point in the early morning we fell asleep for a few hours. When we both woke up suddenly at 5am staring at each other, Franz asked me if I thought we should go back to the hospital. A reluctant Led Zeppelin fan, all this time I've had no idea the name of the song I'd been hearing the drum beat for in my head all week, so I looked it up on my phone's streaming music: "In My Time of Dying (Live)".