issues
C U R R E N T   I S S U E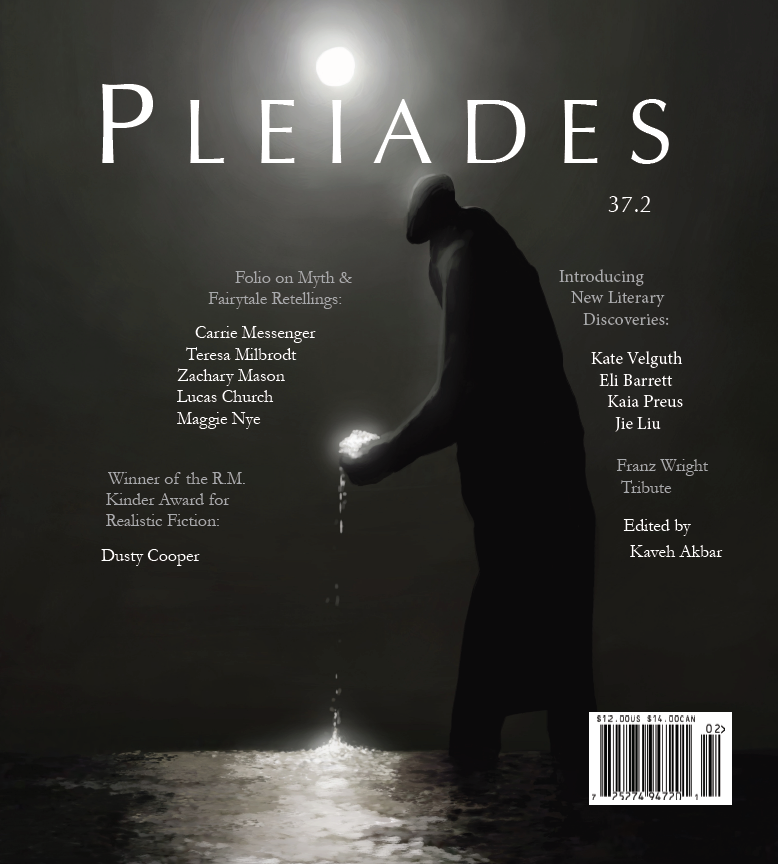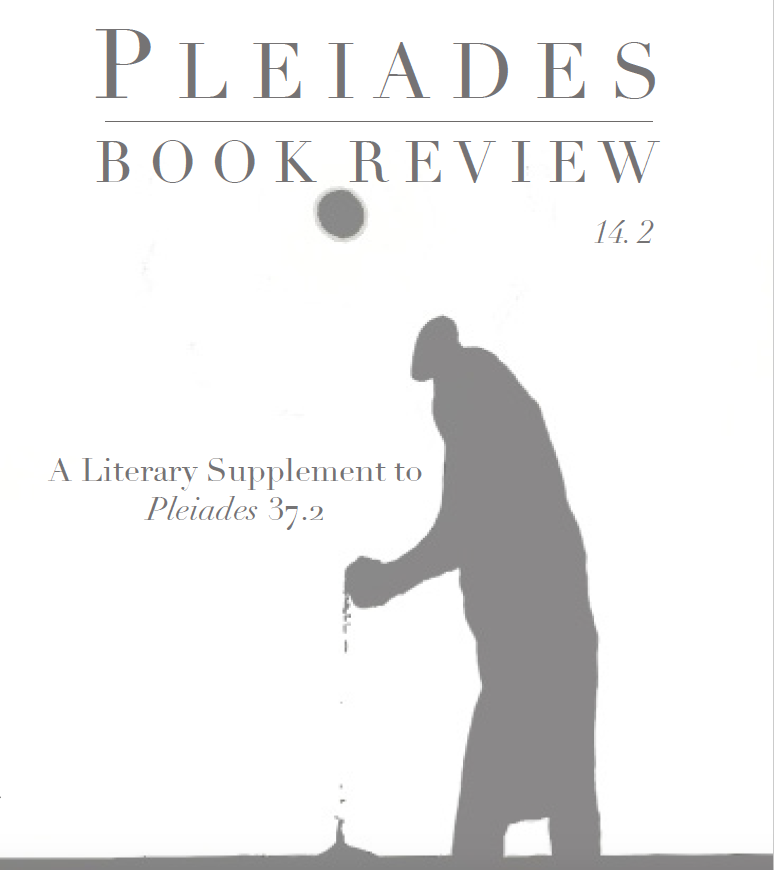 Folio: on Myth & Fairytale Retellings: Carrie Messenger, Teresa Milbrodt, Zachary Mason, Lucas Church, Maggie Nye.
Introducing New Literary Discoveries: Kate Velguth, Eli Barrett, Kaia Preus, Jie Liu.
Tribute to the late Franz Wright, edited by Kaveh Akbar.
Winner of the R.M. Kinder Award for Realistic Fiction: Dusty Cooper.

Christine Butterworth-McDermott's Dolls, Freaks, Art: American Poets Creating a New Mythology
Maggie Anderson's Level of Difficulty
Caitlin Pryor's Eating Poetry: Reading & Tasting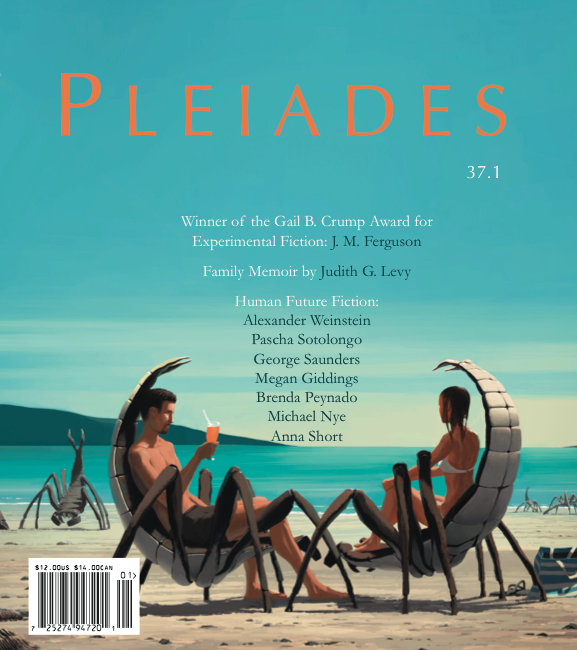 Winner of the Gail B. Crump Award for Experimental Fiction: J. M. Ferguson
Family Memoir by Judith G. Levy
Folio of "Human Future Fiction" including writers Alexander Weinstein, Pascha Sotolongo, George Saunders, Megan Giddings, Brenda Peynado, Michael Nye, and Anna Short.
New Translations of poet Vintila Ivanceanu
Fiction by Michael Kardos, Samantha Edmonds, Nickalus Rupert, Erica X Eisen, and B.J. Best
Essays by Emma Carlisle, Tonya Bomsta, and Tina V. Cabrera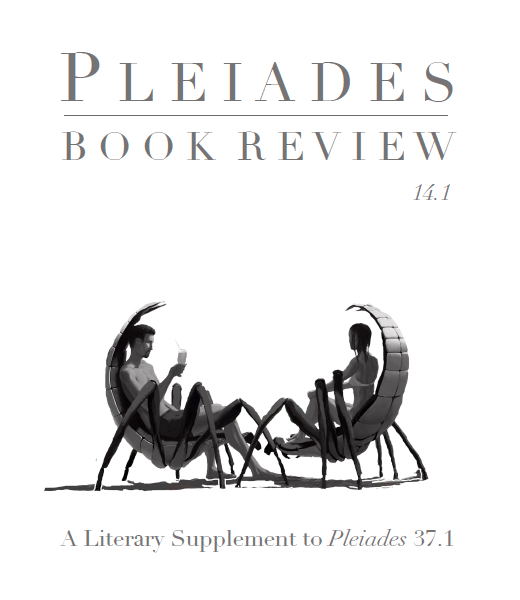 BJ Hollars on A Fond Farewell to Time Well Spent
Jason Tucker's All the White People, Anyway: Race, Gender, and Leaving Home
Jaclyn Bergamino and Kori Hensell's Dirt Under Our Fingernails
Jerry Harp's Uncanny Eileen Myles
Mark Halliday's Lerner and His Firefly
Eric Smith on Bakken's Eternity & Oranges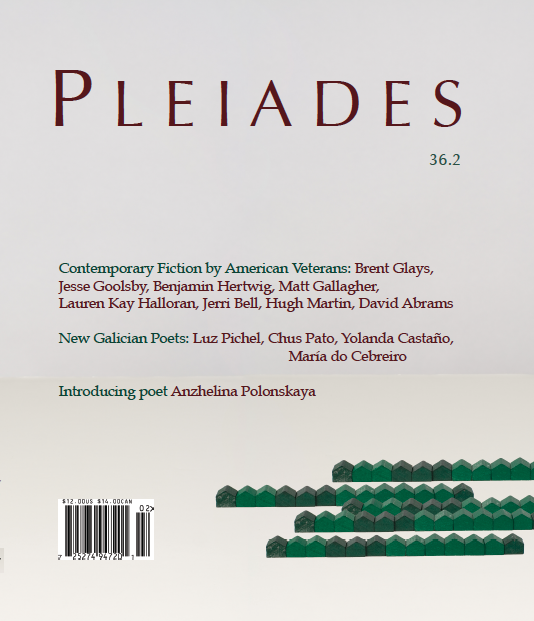 Folio of Contemporary Fiction by American Veterans: Brent Glays, Jesse Goolsby, Benjamin Hertwig, Matt Gallagher, Lauren Kay Halloran, Jerri Bell, Hugh Martin, David Abrams
Folio of New Galician Poets: Luz Pichel, Chus PAto, Yolanda Castano, Maria do Cebreiro
Introducing poet Anzhelina Polonskaya
Fiction by Zachary Mason, Alexander Weinstein, Janice Hubschman, Lizzi Wolf, Kiik Araki-Kawaguchi, Jameelah Lang
Essays by Lucy Biederman and Mark Halliday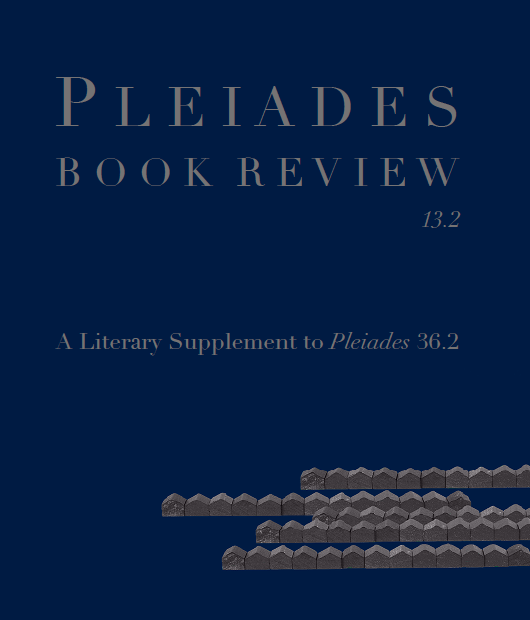 From Ruins to Redemption: On Building Back Beyond Disaster
Anne Valente on Matt Bell's Scrapper, Claire Vaye Watkins's Gold Fame Citrus, and Jill Talbot's The Way We Weren't.
"History Has Its Eyes on You": Contemporary Nonfiction and Its Engagement with the Past
Colin Rafferty on Janice Nimura's Daughters of the Samurai: A Journey from East to West and Back, Sallie Bingham's The Blue Box: Three Lives in LEtters, Sarah Wildman's Paper Love: Searching for the Girl My Grandfather Left Behind, and Helen Macdonald's H Is for Hawk.
Reading Ashbery Reading Us
Jerry Harp on John Ashbery's Breezeway
---
B A C K   I S S U E S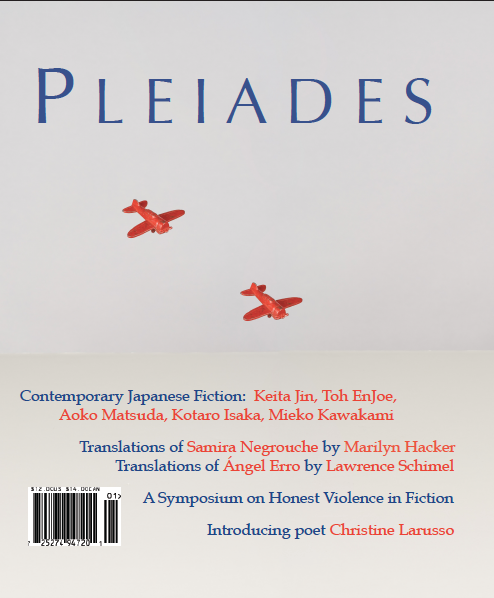 Folio of Contemporary Japanese Fiction: Keita Jin (translated by Alison Watts), Toh EnJoe (translated by David Boyd), Aoko Matsuda (translated by Ryan Shaldjian Morrison), Kotaro Isaka (translated by Angus Turvill), and Mieko Kawakami (translated by Hitomi Yoshio)
Symposium on "Honest Violence" in Fiction: Morris Collins, Aaron Apps, Ihab Hassan, Suzanne Heagy, J. Duncan Wiley, Joseph Grim Feinberg, Joseph Daniel Haske, Teresa Milbrodt, Sharon Harrigan
Translations of Samira Negrouche by Marilyn Hacker
Translations of Angel Erro by Lawrence Schimel
Introducing poet Christine Larusso, by Rachel Zucker
Fiction: by Hunter Choate, Jaclyn Dwyer, Glenn Shaheen, Tara L. Masih, Kurt Becket Pitzer, and Teresa Milbrodt
Essays: by Geoffrey Babbitt, Caroline Crew, Susanna Space, and Dustin Parsons
Poetry: by Amy Meng, Audrey Hackett, Stephen Gibson, Delia Rainey, Hannah Gamble, Elizabeth Langemak, Jay Yencich, Kien Lam, Ashley Keyser, Jessica Morey-Collins, Matthew Wimberley, Randy Blythe, M. Lysen, Adam Hayden, Amaranth Borsuk, Ocean Vuong, Miranda Atzbach, Julia Clare Tillinghast, Emily Skillings, Michelle Askin, Miguel Angel Ramirez, Nick Narbutas, Hannah Kucharzak, Alexandra Teague, David Bartone, John Harn, Lucille Lang Day, Brian Clifton, Safia Elhillo, Abigail Chabitnoy, Ruth Williams, Lauren Moseley, Alicia Mountain, and Susan Elizabeth Howe.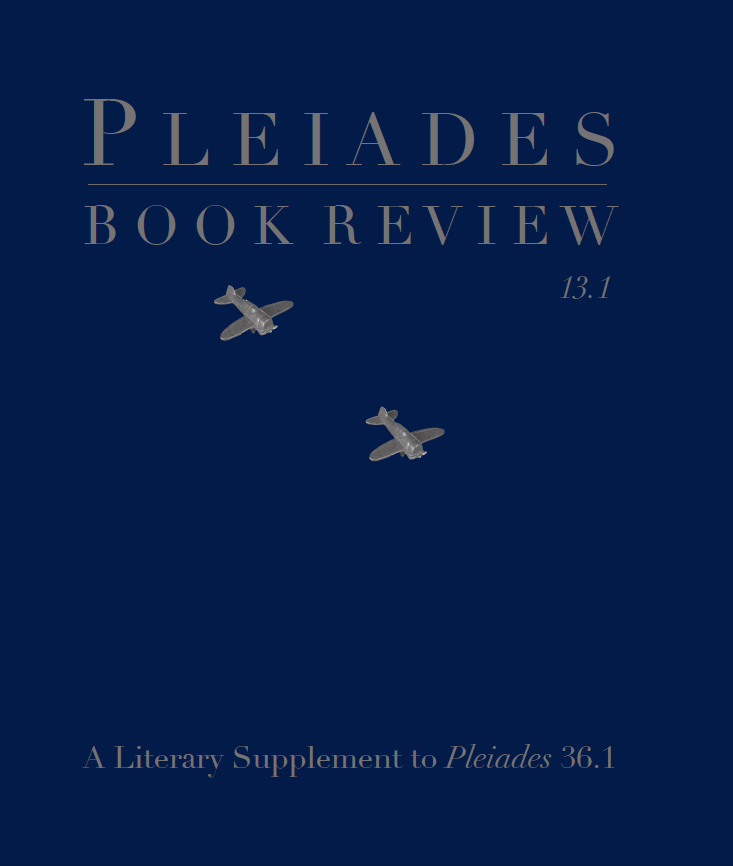 Introduction: BJ Hollars "A Place to Live: a Call for Literary Citizenship"
Feature Reviews: Beth Marzoni, "Violent Mercices: Five New Poetry Collections of Rage & Reckoning; Robert Glick, "In a World Without Dragons: Violence and its Safety Valves"; Alan Michael Parker, "Damn Franzen: on Franzen's Purity."
Shorter Reviews: Kristina Marie Darling on Devota's And the Girls Worried Terribly; Colin Rafferty on Slomski's The Lovers Set Down Their Spoons; John Vanderslice on Blumenthal's The Greatest Jewish-American Lover in Hungarian History; Katherine Hoerth on Quintanilla's If I Go Missing; Jennifer Schomburg Kanke on Dawson's The Small Blades Hurt; Erica Trabold on Gorham's Study in Perfect; Bruce Whiteman on Char's Hypnos: Notes from the French Resistance; Jennifer Schomburg Kanke on Hahn's Brain Fever; Colin Rafferty on Luiselli's Sidewalks; Brent Newson on Li's Transoceanic Lights; John Vanderslice on ZoBell's What Happened Here; Bayard Godsave on Gunnarsson's The Thaw; Erica Trabold on Cohen's I Was Not Born; Matthew Hidinger on Hampsey's Kauffman's Hill; Bayard Godsave on Smith and Chavez's Angels of the Americlypse: An Anthology of New Latin@ Writing; Amanda Williams on Dawes's Duppy Conqueror; Lynnell Edwards on Bachmann's Do Not Rise; Chioma Urama on Iromuanya's Mr. and Mrs. Doctor; Shannon Kammerlohr on Gallaher's In a Landscape; Nathanael Tagg on McGovern's Bad Fame; Jeremy Allan Hawkins on Shea's The Lost Novel; M. J. Chrisman on Adnot-Hayes's The Year of Perfect Happiness; Carol Quinn on White's Small Porcelain Head; Sean Morrissey on Kocher's Goodbye Lyric: The Gigans and Lovely Gun; Stephen Tapscott on Collins's Day Unto Day; Carol Niederlander on Pankey's Dismantling the Angel; Jack Smith on Must's Hush Now, Don't Explain; Kylie Shepherd on Bar-Nadav's Lullaby (with Exit Sign).


Volume 35, Number 2, Summer 2015
Symposium on Prufrock at 100: Jerry Harp, Michael Theune, Jason Sommer, Corey Van Landingham, Rishona Zimring, Eric Pankey, Kevin Prufer, Jennifer Atkinson, Carl Adamshick.
Introducing Grzegorz Wróblewski: by Piotr Gwiazda.
Fiction: by Rebecca Makkai, Richard Burgin, Dustin M. Hoffman, Allyson Goldin Loomis.
Essays: by Maya Jewell Zeller, Toni Mirosevich, Dustin Parsons, Caleb Powell.
Poems: by Taisia Kitaiskaia, B.J. Best, Catherine Wing, Jane Wong, Zack Strait, Ed Skoog, Danniel Schoonebeek, Kristen Steenbeeke, Abigail Cloud, Maya Jewell Zeller, Corey Van Landingham, Jerry Harp, Nellie Bridge, Sarah Barber, Sarah Galvin, Jessica Garratt, Davis McCombs, Colleen Abel, Rachel B. Glaser, Mark Leidner, Dana Roeser, Katharine Rauk, Bill Carty, Zubair Ahmed, Thomas Grout, Katharine Ogle, Karen Skolfield, Peter Schireson, Drew S. Cook, Debora Kuan, Thomas March, Damian Caudill, Svetlana Beggs, Maureen Seaton, Michelle Peñaloza, Stephen Danos, Bryan Merck, Lizzie Harris, Sierra Nelson, Casey Patrick, Christopher Cheney.
---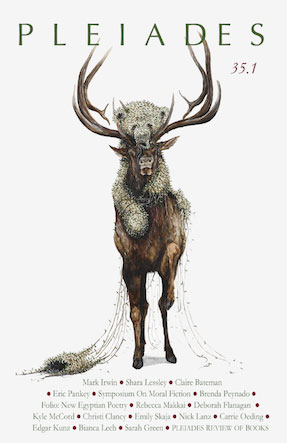 Volume 35, Number 1, Winter 2015
Symposium: Morality and Fiction: Paula M. L. Moya, Seth Brady Tucker, Alexander Weinstein, Bayard Godsave, Kaethe Schwehn, Peder Jothen, Michael Dean Clark, Michael Kardos, & Christine Sneed
Folio: New Egyptian Poetry: Ibrahim El-Sayed, Hermes, Malaka Badr, Tamer Fathi, Amira Hanafi, Ahmed Nada, & Aya Nabih
Fiction: by Kiik Araki-Kawaguchi, Brenda Peynado, Christina Clancy, Rebecca Makkai, James Terry, & Michael Czyzniejewski
Essays: by Joel Brouwer & Shara Lessley
Poems: by Trey Moody, Katie Bickham, Ben Purkert, Shara Lessley, Monica A. Hand, Julie Sheehan, Charlie Clark, Kevin Boyle, Chris Anderson, Gerry LaFemina, Emily Skaja, Deborah Flanagan, Nick Lantz, Fleda Brown, Bianca Lech, John Estes, Jonathan Johnson, Laura Bylenok, Denise Duhamel, Joshua Gottlieb-Miller, Karina Borowicz, Lee Sharkey, Claire Bateman, Mark Irwin, Sally Wen Mao, Thibault Raoult, Joelle Biele, Marc Brudzinski, Allison Benis White, Janice N. Harrington, Megan Privitello, Matthew Guenette, Carrie Oeding, Mary Ann Samyn, Rebecca Lehmann, Peter Kline, Jim Daniels, Henry Israeli, Nance Van Winckel, Kerry James Evans, Dore Kiesselbach, Sarah Green, Brian Laidlaw, Jacques Rancourt, & Kyle McCord.
---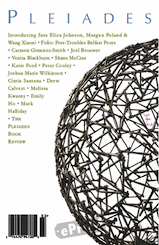 Volume 34, Number 2
Features: Martha Collins introducing Sara Eliza Johnson, Eleanor Goodman introducing Wang Xiaoni, & Jack Pendarvis introducing Maegan Poland; Post-Troubles Belfast Poets: Jean Bleakney, Damian Smyth, Gearoid Mac Lochlainn, Sinead Morrissey, Leontia Flynn, Miriam Gamble, Moyra Donaldson & Sam Riviere
Fiction: by Kate Crosby, Patrick Dacey, Venita Blackburn, S. Brady Tucker & Mary Troy; Essays: by Mark Halliday & Drew Calvert
Poems: by Andrew Grace, Joel Brouwer, Melissa Kwasny, Kuno Raeber, Peter Cooley, Katie Ford, Amy Sparks, Chana Bloch, David Dodd Lee, Sarah Murphy, Jason Olsen, Emily Ho,Carmen Gimenez-Smith, Dan Bellm, Bruce Whiteman, Maya Jewell Zeller, Rich Smith, C. Dylan Basset, Shane Mcrae, Cintia Santana, Laura Van Prooyen, Joshua Marie Wilkinson
---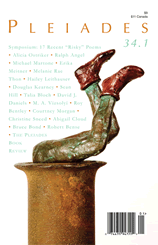 Volume 34, Number 1
Feature: Symposium on Poetic "Risk" with contributions byRobert Archambeau on Peter O'Leary & Michael Robbins, Rae Armantrout on Ben Lerner, Victoria Chang on Shane McCrae, Heather Christle on Mark Leidner, Martha Collins on Tony Hoagland, Carl Dennis on David Wojahn, & more
Fiction by Alexander Weinstein, Courtney Morgan, Michael Martone, Christine Sneed, J. Duncan Wiley, & Joseph Grim Feinberg
Essays by Melanie Rae Thon, Robert Long Foreman, & Drew Calvert
Poems by Hailey Leithauser, Michael Martin Shea, Alicia Ostriker, Abigail Cloud, Ralph Angel, K. A. Hays, Erika Meitner, Rosalie Moffett, Jennifer K. Sweeney, Douglas Kearney, Benjamin S. Grossberg, Jerry Harp, Catherine Pierce, Sean Hill, Sydney Lea & more.
---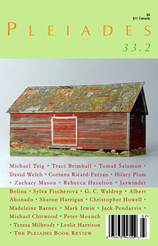 Volume 33, Number 2
Poems by Jaswinder Bolina, G. C. Waldrep, Leslie Harrison, Tomaž Šalamun, Michael Teig, Rebecca Hazelton, Ed Orr, Traci Brimhall, Michael Bazzett, George David Clark, Stephanie Horvath, Michael Snediker, Corinna Ricard-Farzan, Madeleine Barnes, Michael Chitwood, Mark Irwin, Christopher Howell, Albert Abonado, & more
Fiction by Zachary Mason, Jack Pendarvis, Hilary Plum & more
An Essay by David Comfort
J. Allyn Rosser introducing Steve Coughlin
---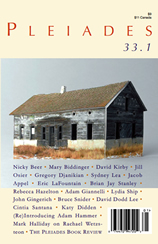 Volume 33, Number 1
Poems by Rebecca Hazelton, David Kirby, Nina Puro, Frances Justine Post, David Dodd Lee, Gregory Djanikian, Bruce Snider, Katy Didden, Nicky Beer, Giovanni Pascoli (trans. Taije Silverman and Marina Della Putta Johnston), Adam Giannelli, B. J. Best, Mary Biddinger, Jeffrey Morgan, Cintia Santana, Noah Blaustein, Sydney Lea, Jill Osier, & more
Fiction by Eric La Fountain, Suzanne Heagy, Jacob M. Appel, & more
An Essay by Brian Jay Stanley
Christopher Howell (re)introducing Adam Hammer
Mark Halliday on Rachel Wetzsteon
---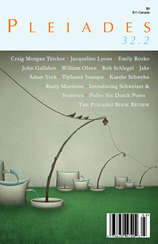 Volume 32, Number 2
Poems by Craig Morgan Teicher, Ari Feld, Laura Eve Engel, Julio de Luna, Rob Schlegel, Carl Auerbach, Kent Shaw, Jake Adam York, Jacqueline Lyons, John Gallaher, Emily Rosko, Michael Bazzett, & more
Fiction by Kaethe Schwehn, Tiphanie Yanique, & Jan English Leary
Essays by Brian Jay Stanley & Rusty Morrison
A Folio: Six Dutch Poets
Katie Ford introduces Harold Schweizer; Sean Cotter introduces Nichita Stănescu
---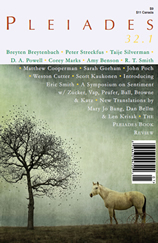 Volume 32, Number 1
Poems by Heather Kirn Lanier, Chris Bullard, Breyten Breytenbach, Marosa di Giorgio (trans. Adam Giannelli), David Wagoner, D. A. Powell, Bruce Snider, R. T. Smith, Sarah Rose Nordgren, Malachi Black, Taije Silverman, Peter Streckfus, Margaret MK Hess, John Poch, Elaine Terranova, Kevin Phan, Corey Marks, James May, & more.
Fiction by Bayard Godsave, Peter Sapira, & Scott Kaukonen
Essays by Amy Benson & Sarah Gorham
A Symposium on Sentiment
A Folio of New Translations by "Old" Poets
Randall Mann introduces Eric Smith
---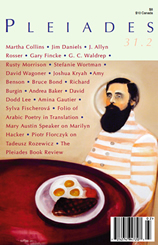 Volume 31, Number 2
Poems by Mike White, Eric Torgersen, J Allyn Rosser, Pablo Peschiera, Tori Sharpe, Aliesa Zoecklein, Martha Collins, G. C. Waldrep, Jim Daniels, Rusty Morrison, Piper Abernathy, Sam Witt, Sylva Fischerová (trans. the author & Stuart Friebert), David Dodd Lee, Bruce Bond, Erika L. Sánchez, Dan Rosenberg, Andrew Brogdon, & more.
Fiction by Alex Weinstein, Amina Gautier, Christine Sneed, Richard Burgin, & Gary Fincke
Essays by Amy Benson, Melissa Kwasny, & Sarah Gorham
A Folio of Arabic Poetry in Translation, featuring poems by Adonis, Ashur Etwebi, Ghassan Zaqtan, Amjad Nasser, Asmaa Azaizeh, & Dalia Taha (translations by Fady Joudah, Khaled Mattawa, & Rasheeda Plenty)
---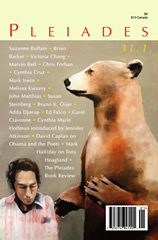 Volume 31, Number 1
Poems by Suzanne Buffam, Chris Forhan, Victoria Chang, Brian Barker, CJ Evans,Edward Falco, Jehanne Dubrow, Mark Irwin, Melissa Kwasny, Cynthia Cruz, Marvin Bell, JL Conrad, Betty Adcock, Adda Djørup (trans. Roger Greenwald), Eleanor Tipton, John Matthias, Steven D. Schroeder, Jerry Harp, Laurel Blossom, & more.
Fiction by Susan Steinberg & Allyson Goldin.
Essays by William Giraldi, Carol Ciavonne, Chuck Carlise, & Joe Miller.
Cynthia Marie Hoffman introduced by Jennifer Atkinson.
Featured reviews by David Caplan, Kristina Marie Darling, Mark Halliday, and Peter Ramos.
---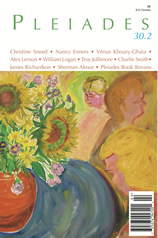 Volume 30, Number 2
Poems by Brian Barker, Alex Lemon, Penelope Cray, David Wagoner, Nancy Eimers, Randall Mann, William Logan, Troy Jollimore, James Richardson, Sydney Lea, Ada Limón, Sherman Alexie, Salgado Maranhão, Xi Du, Vénus Khoury-Ghata, and more.
Fiction by Matt Mullins, Roger Yepsen, and Christine Sneed.
Essays by Lance Olsen and Robert Long Foreman.
Introducing Austin Smith.
Featured reviews by Jay Thompson & Michael Theune, Betty Adcock, Michael Lipkin, Rika Lesser, Matthew Thorburn, Richard Tayson, Jerome Sala, and Raymond McDaniel.
---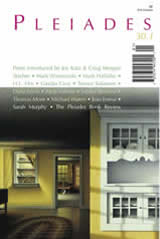 Volume 30, Number 1
Poems by H. L. Hix, David Wagoner, Sandra Beasley, Gastão Cruz (trans. Alexis Levitin), Thomas More (trans. Jerry Harp), Tomaz Salamun, Sarah Murphy, and more.
Fiction by Mark Wisniewski, Ned Balbo, Meghan Kenny, and Jack Boettcher.
Mark Halliday on "Pushcart Hopes & Dreams."
Introducing Heather Treseler and Collier Nogues.
Featured reviews by Michael Theune, Dana Levin, and J. B. Werlin.
---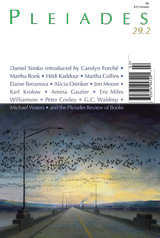 Volume 29, Number 2
Poems by Michael Waters, Martha Ronk, Nicky Beer, G. C. Waldrep, Alicia Ostriker, Martha Collins, Hédi Kaddour (trans. Marilyn Hacker), Vincent Guerra, and more.
Fiction by K. Schoenhut, Bonnie Jo Campbell, Michael P. Kardos, and Amina Gautier.
A Letter to John W. Aldridge from Eric Miles Williamson.
Introducing Daniel Simko.
Featured reviews by Joseph Campana, Jay Thompson, Piotr Florczyk, Richard Tayson, Lynnell Edwards, Anis Shivani, Michael Theune, and Jerry Harp.
---
Volume 29, Number 1
Poems by Wayne Dodd, Emily Rosko, John Gallaher, Diane Wakoski, Brian Barker, David Bottoms, Christina Davis, Julio Martínez Mesanza (trans. Don Bogen), and more.
Fiction by Martha Ronk, Matt Salesses, and Elizabeth Miller.
A play by Mark Halliday & Martin Stannard.
Essays by Lee Zacharias and Desirae Matherly.
Introducing Celia Dropkin and Yvette Louisell.
Featured reviews by Archambeau, Theune, Metres, K. Hollander, and Hutton.
---
Volume 28, Number 2
Poems by Troy Jollimore, Adrian Matejka, David Orr, Luljeta Lleshanaku (trans. Shpresa Qatipi & Henry Israeli), Jonah Winter, Maria Hummel, Arielle Greenberg, and more.
Fiction by Gary Fincke, David Yost, Ihab Hassan, and Effim Yaroshevsky.
An essay by Tom Fleischmann.
A symposium on Laura Jensen, and introducing Lily Brown.
Featured reviews by David Caplan, Mark Halliday, Jerry Harp, Anis Shivani, and James Matthew Wilson.
---
Volume 28, Number 1
Poems by Kim Adonizzio, James Richardson, Claire Hero, Ngu Tu Lap (trans. Martha Collins), Jericho Brown, Albert Goldbarth, Roberto Bolaño (trans. Laura Healy), and more.
Fiction by Dan Malakoff, Ellen Visson, and James W. Crilly.
Mark Halliday on Cultural Studies, Rick Barot on Carl Phillips.
Introducing Derek Mong and Linnea Ogden.
Featured reviews by Michael Theune, Robert Archambeau, and Jerry Harp.
---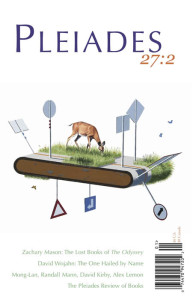 Volume 27, Number 2
Poems by Mary Jo Bang, Randall Mann, Alan Michael Parker, Michael Dumanis, David Kirby, Brian Teare, Joshua Kryah, Mông-Lan, Paige Ackerson-Kiely, and more.
Fiction by Zachary Mason and Anna Maria Baker.
David Wojahn on the "School of Imaginary Conversations."
Introducing Jon Link and Julie King.
Featured review by Jerry Harp.
---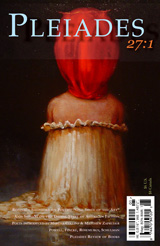 Volume 27, Number 1
Poems by John Gallaher, D. A. Powell, Catie Rosemurgy, Sam Witt, Sylva Fischerová (trans. Stuart Friebert), John Matthias, Grace Schulman, Patty Seyburn, and more.
Fiction by Manjula Menon and Gary Fincke.
Essays by Reginald Shepherd and Anis Shivani.
Introducing Katie Hubbard and Andrew Morgan.
Featured reviews by Robert Archambeau, John Poch & Gibson Fay-LeBlanc, Jerry Harp, Michael Theune, Richard Tayson, and Lynnell Edwards.
---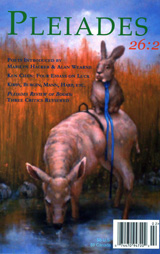 Volume 26, Number 2
Poems by Randall Mann, Don Share, G. C. Waldrep, Pattabi Seshadri, Andrea Hollander Budy, Allison Benis, Kathleen Jesme, Sarah Murphy, David Hernandez, and more.
Fiction by Joshua Mohr and Richard Burgin.
Essays by Ken Chen and David Kirby.
Introducing Marie Etienne and John Forbes.
Featured reviews by Mark Halliday, Jerry Harp, and Michael Theune.
---
Volume 26, Number 1
Poems by Mike White, Donna Stonecipher, Marc McKee, Laura Kasischke, Michael Snediker, Davis McCombs, Betty Adcock, Göran Sonnevi (trans. Rika Lesser), and more.
Fiction by Tony Viola and Stephanie Reents.
Essays by Lewis Horton, Sean Bernard, and Paul Ruffin.
Introducing Kevin Honold and Jay Hopler.
Featured reviews by Michael Theune, Craig Morgan Teicher, and Jonathan Weinert.
---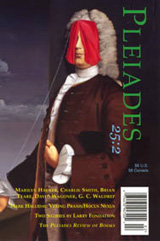 Volume 25, Number 2
Poetry by Maria Hummel, Colette Inez, Charlie Smith, Victoria Chang, Lara Glenum, David Wagoner, David Dodd Lee, Matthew Cooperman, Hadar Bar-Nadav, and more.
Fiction by Andrew Foster Altschul, Kerry Maiorca, and Larry Foundation.
Essays and "other prose" by Mark Halliday, David Lazar, and Molly McQuade.
Introducing Karen Subach.
Featured reviews by Michael Theune, Jerry Harp, and Mark Halliday.
---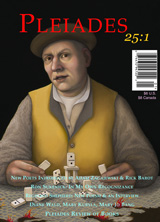 Volume 25, Number 1
Poems by Craig Morgan Teicher, Mary Jo Bang, Peter Cooley, Mark Pietrzykowski, Kirsten Kaschock, Kent Shaw, Christopher Buckley, Catherine Barnett, and more.
Fiction by Mary Kuryla, Nathan Hill, and Tod Williams.
An essay by Ronald Sukenick and an interview with Reginald Shepherd.
Introducing Jerzy Kronhold and Alex Lemon.
Featured reviews by Jerry Harp, Mark Halliday, and Michael Theune.
---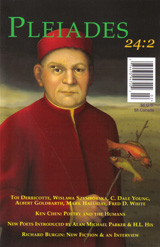 Volume 24, Number 2
Poetry by Toi Derricotte, C. Dale Young, Barbara J. Orton, Wislawa Szymborska (trans. Justyna Koskowska), Julie Sheehan, Jerry Williams, Sean Hill, and more.
Fiction by Bill Peters, Theresa Rusho, and CB Anderson.
Essays by Fred D. White and Ken Chen.
Introducing Jirí Cêch and Benjamin Scott Grossberg; an interview with Richard Burgin.
The Pleiades Book Review.
---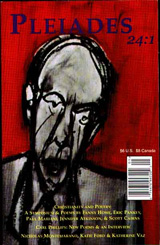 Volume 24, Number 1
Poems by Pablo Peschiera, John Gallaher, Angie Estes, Arielle Greenberg, G. C. Waldrep, Kile Cogis, Nils Michals, Max Winter, Katie Ford, Jennifer Kronovet, and more.
Fiction by Nicholas Montemarano, Ander S. Monson, Katherine Vaz, and Lyzette Wanzer.
Essays by J. D. Smith and Rob Johnson.
A symposium on Christianity and poetry, and and interview with Carl Phillips.
The Pleiades Book Review begins here!
---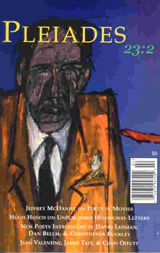 Volume 23, Number 2
Poems by Christine Sneed, Amy Beeder, Sarah Manguso, Paisley Rekdal, Terrance Hayes, Jennifer Grotz, James Hoch, Rusty Morrison, Ethan Paquin, James Tate, Jean Valentine, Jeffrey McDaniel, Cynthia Cruz, Alissa Valles, Rick Barot, Bob Hicok, and more.
Fiction by Shannon Doyne, Kristi Dalven, and Stephen Graham Jones.
Essays by Chris Offutt, Geoff Bent, and Jeffrey McDaniel.
Hugh Hosch on the "Hemingway/Conrad 'One-Way Feud.'"
Introducing Danielle Pafunda, Alexander Long, and Helen Wickes.
Numerous book reviews.
---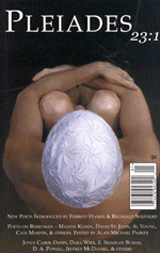 Volume 23, Number 1
Poems by D. A. Powell, Arielle Greenberg, David Dodd Lee, Jeffrey McDaniel, Rachel Zucker, Dara Wier, Christopher Arigo, Ander Monson, Eric Pankey, Simone Muench, Joyce Carol Oates, Talvikki Ansel, Cate Marvin, Maxine Kumin, David St. John, and more.
Fiction by Patrick Ryan, John A. Tisdale, E. Shaskan Bumas, Paul Crenshaw, and Joanna Fried.
Introducing Catherine Imbriglio and George Higgins.
Poets on John Berryman.
Numerous book reviews.
---