"Pregnant with Cryptids": An Interview with Traci Brimhall
---
Margaret Warren, a creative writing student at the University of Central Missouri, interviews Traci Brimhall, who recently visited UCM for the Pleiades Visiting Writers Series.
---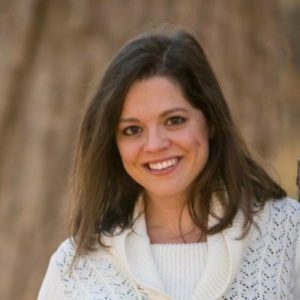 Traci Brimhall is the author of four collections of poetry, including her most recent Saudade (Copper Canyon Press, 2017), Our Lady of the Ruins (W.W. Norton, 2012,  selected by Carolyn Forché for the 2011 Barnard Women Poets Prize), and Rookery (Southern Illinois University Press, 2010, selected by Michelle Boisseau for the 2009 Crab Orchard Series in Poetry First Book Award). Brimhall's fourth collection, Come the Slumberless to the Land of Nod, will be out next year (Copper Canyon Press, forthcoming). Her poems have appeared in The New Yorker, Poetry, Kenyon Review, and The New Republic (among others). Her essays have appeared or are forthcoming in Georgia Review, The Southern Review, and Gulf Coast. She is also the author of a children's book titled Sophia & the Boy Who Fell (Pleiades Press) and collaborator for poetry comics with Eryn Cruft, which can be found in Guernica, The Poetry Comics, and Nashville Review.
MW: How did the process of writing Saudade differ from Our Lady of the Ruins?
TB: With both of them it felt more like writing fiction, like a world already existed, and I would just pop in to visit. I used to describe it as a tearing a hole into the fabric of that place and poking my head in to visit and then vanishing again. What differed was that while Our Lady is mid-apocalypse in a version or nowhere/everywhere Saudade IS grounded in a real time and place, even if I fictionalized it. I used to have a timeline across my folding closet doors that was trying to reconcile three timelines: real history of that place, imagined events, and private moments in my mother's childhood from that place. I wanted reading it to still feel accessible and natural but also had a lot of details and research I wanted to keep straight.
MW: Do you find through the writing process that you discover answers in your poetry, more questions, or both? Do you write to find answers or more questions?
TB: Oh I love this question! And I think perhaps both. I sometimes write with a desire to understand something, which isn't exactly a question, but it's a place of unknowing. So it's not quite as specific as a scientific research question, but something that troubles me that I'm seeking clarification on. I don't know that what I find is an answer, per se, but perhaps a touch more clarity on the confusion. And often that clarity takes a long time. I'll look back on poems I wrote months or years before and suddenly it makes sense. I recently compared writing poems to constantly being pregnant with cryptids. Sometimes magical and weird comes out of you, but perhaps there's that other association too–how pregnancy hormones make your brain cloudy and obscure your focus. That's often the feeling I have when there's a poem in me that I should write–not quite question, not quite answers, but weird hybrid monsters awaiting their birth.
MW: Do you feel like you gained anything that has benefited your personal life or writing life from writing four collections?
TB: Yes, tremendously so. My main motivation to write has been because when I read poems when I was young, I felt less alone. I still have that feeling, that I'm communicating in a sincere and intimate way, and I have made many friends who also communicate this way. My bonds with other poets have been some of the most rewarding in my life, friendships that help me feel seen and supported, who help me understand my life and what it is to be a person. I am who I am because of poetry, in part from the attention it makes me pay to the world, but also because so many poets are remarkable and exceptional people who make really rad friends.
MW: What is the revision process like for you?
TB: It always changes! Both drafting and revising has changed throughout my life, but on the individual poem level, one thing I try to honor is whatever the strangest line is in a poem. I trust the wild parts of me and love when something surprising comes out when I write. On the book level, I try and make that wilderness have some sort of cohesion and order. For instance, in Saudade,I figured out key images and themes and scaffolded them back into the book. Traces of things like the number seven and the severed hand already existed, but in revision I made sure to add lines or alter some nouns to make sure these resonances were more pronounced. But I definitely believe you make the mess first, and then you figure out what the poems have in common.
MW: Did you write the poem "Saudade" before or after you chose the title? Why did you choose the title Saudadefor the collection?
TB: The title poem came quite late. Saudade as a word is important to me, but because it's such a common touchstone in Portuguese/Brazilian culture, I thought it might be too…on the nose? Expected? Initially it was title Investigations into the Unconfirmed Miracles at Puraquequara. It used to be much more of an ars poetica about the poems on the trees. But then my mother died when I was in the middle of writing this book about where she's from, so the question I thought the book was–or could be–asking changed. Then I shuffled the poems to consider family and grief, and, well, the saudade of it all.
MW: I've noticed a lot of tercets throughout your writing among other stylistic choices regarding poetic form, and I was wondering if you could talk a little about that. Do you feel like your poems naturally take a form or is it consciously chosen?
TB: Way back in the day I was told that a tercet is the most unstable form and quatrains are the most stable (because land mammals are usually four legged? As are tables and chairs? I'd say that a milking stool and a triangle are also really stable forms for three, but that was what I was told.) Since most of my poems come from a place of not knowing, I like the unstableness that perhaps a tercet suggests. I also worry that my poems can be a bit dense and strange. By using a form with a shorter stanza, I feel I'm also pacing out my particular strangeness for a reader, not asking them to take in all my weird wildness at once. I think I'm a person who can be intense, but I also want to be deserving of a level of trust. My hope with stanza breaks is also that people want to go on. I'm not intimacy bombing them. They accept one strange revelation at a time this way and hopefully think yes, yes, tell me more and choose to follow my monstrous heart where it is leading them.
---
Margaret Warren is a student in the creative writing program at the University of Central Missouri, an intern for Pleiades: Literature in Context, and poetry editor of Arcade Magazine.